All round year
Departures
3012 msnm.
Maximum Altitude
The Humahuaca tour visit a region rich in history and traditions. This area has been used as road and settlement over ten thousand years, and today still retains architectural and archaeological sites that are testimony to its long history and a population that keeps ancient customs.
Visit Purmamarca to observe "The Hill of Seven Colors", the Church and craft market.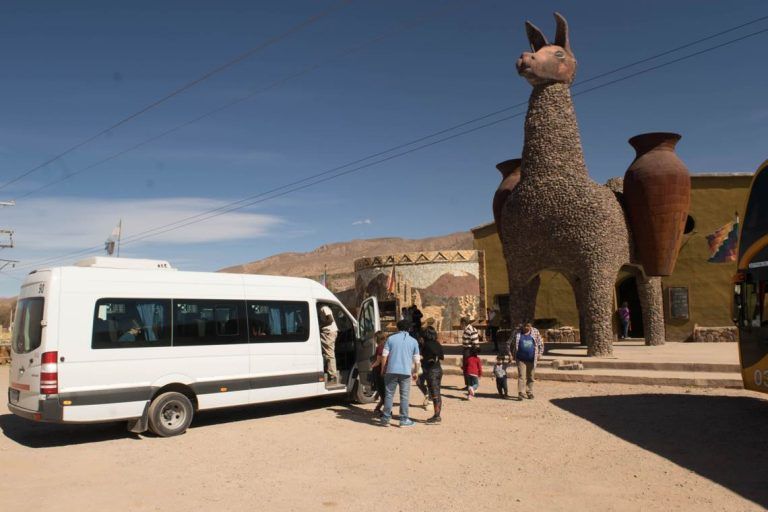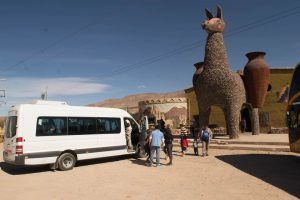 Arrive to Tilcara and visit to Pucara and Archaeological Museum, continuing to Huacalera go straight through the Tropic of Capricorn.
Photographic view of La Pollera de la Colla, visit the Church of Uquía, home of the Ángeles arcabuceros.
Arrival Humahuaca visit to the Cathedral and Monument of Independence.
It forms a natural corridor toward North-South, which stretches across the Rio Grande basin and that communicates the Jujuy Valley with the Puna region.
In 2003, during a meeting held in Paris, has been declared by UNESCO as a "World Heritage Site", in category "Cultural Landscape".
Humahuaca tour characteristics
DEPARTURE / RETURN
Central location accommodations.
DEPARTURE TIME
Between 7  / 7:45 am.
RETURN TIME
From 6 pm.
WHAT TO BRING?
Comfortable sportswear, sneakers with sole, cap, sunglasses, a coat and sunscreen. How is the weather in northern Argentina?
INCLUDE

| | |
| --- | --- |
| Transfers | Guide |
| Pickup at your place | |

NOT INCLUDED

Food & drinks
Museum Tickets
From north to south these are the towns who belong
Humahuaca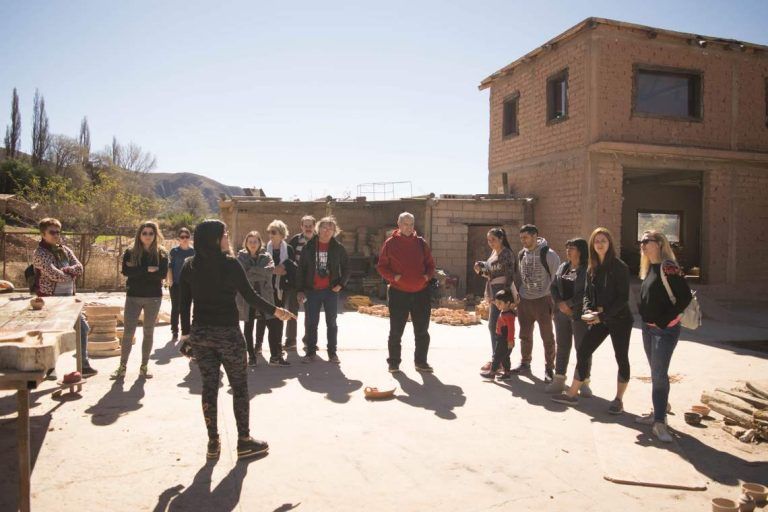 It is the region headwaters and is considered the historical capital of "Humahuaca Canyon", and heart of carnival.
Adobe houses, narrow streets and cobblestone, and tranquillity almost anytime, less during carnival (February)
There is a good variety of museums that show different expressions.
The Cathedral Church is a National Historical Monument and contains paints from Cuzco (Inca Capital, Perú). The Monument to Independence, or to the "Indio Calchaqui", represents the place where he fought in defense of Argentina.
Uquia
In his church rest the remains of Pedro Lozano, and kept a collection of paintings cuzqueñas called "Los Angeles arcabuceros".
Its hills preserved an invaluable paleontological treasure, to preserve remnants of the earliest mammals who emigrated from North america once joined the two continents.
Huacalera
His church was built during eighteenth century, and is a gem of colonial architecture.
It keeps cuzqueño paintings like "The Marriage of the Virgin" and "The Baptism of Our Lady", unique in its theme.
The school, still standing, dating from 1825.
Very near the village is located the Tropic of Capricorn monolith, which indicates the place where the imaginary line passes.
Around the Monolith, December 21 at noon is casts a shadow angles.
Tilcara
Town of significant importance which has museums, craft centers, restaurants, hotels and campsites.
In summertime, a great feast called "January Tilcareño."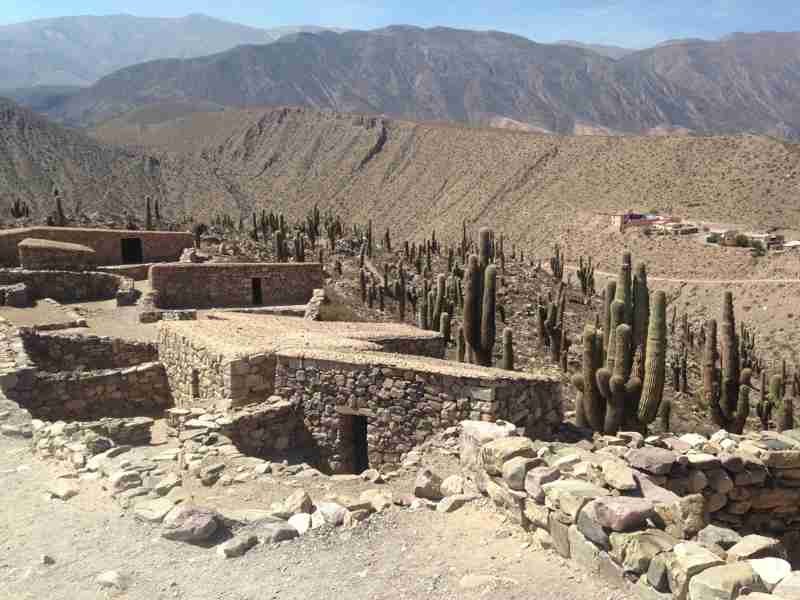 Among its cultural attractions is Pucara of Tilcara a building that Aboriginals Omaguaca built more than 900 years ago, on top of a mountain, from where they had vision of all the valley and access roads.
Maimara
In this small town, the highlight is a mountain known as "The Painter's Palette" reference in their shape and color.
The cemetery is very interesting, with its architecture of early twentieth century.
Purmamarca
Town reclining on the "Seven colors hill ", famous for its unique combination of colors.
Its urban layout was made around his main Church, that dates back to 1648.
Near the church can be seen an old carob (Algarrobo), which saw the history of the canyon.
Volcan
His name does not refer to a volcano as he knows.
"Volcano" is called in the region to large flows of mud falling from the hills during rainy season and they tend to destroy everything that are in its path.
It has a special charm for his old railway buildings, abandoned today.
Other natural beauties are "Laguna de Gronda" and Santuyo Waterfall of 20 meters high and located east of town.
It is possible that passengers stay in Tilcara or Purmamarca, after confirmation with the agency.
Tour package that includes Salinas and Quebrada de Humahuaca
There is a promotional 2 days package that includes Quebrada de Humahuaca tour and Salinas Grandes tour.
It is done in 2 days that do not need to be consecutive.
We are talking about Pack 4 "Salt & Quebrada".
Take advantage of the discount of booking these pack benefiting from a discount of 15% aprox.
For a more complete pack, you can take a look to the most complete tour package from Salta.
From Humahuaca is possible to visit Iruya (but you must consider spend one night in town).