Puna, Purmamarca, Seven colors mountain
Region
All round year
Departures
4100 msnm.
Maximum Altitude
A tour departing from Salta Capital, traveling to the neighboring province of Jujuy and arriving in Purmamarca, where the renowned Cerro de los Siete Colores is visited.
Then, climb the Cuesta de Lipan, to reach the Salinas Grandes.
Puna and Salinas tour characteristics
DEPARTURE / RETURN
Hotels in the downtown area of Salta city or Purmamarca.
DEPARTURE TIME
From Salta: Between 7 and 7:45 am.
From Purmamarca: Between 10:30 and 11:00 am.
RETURN TIME
Salta: From 7:30 pm.
Purmamarca: From 4 pm.
WHAT TO BRING?
Comfortable sportswear, sneakers with sole, cap, sunglasses, a coat and sunscreen. How is the weather in northern Argentina?
INCLUDE

| | |
| --- | --- |
| Transfers | Guide |
| Pickup at your place | |

NOT INCLUDED

Food & drinks
Museum Tickets
The Salinas tour starts in Salta city
Somewhere around 4pm and 5pm we arrive the magical salt desert at 3450m above sea level. It´s known as the Great Salt Flats.
This desert has a surface of 212km2, makes it an ideal place to play with perspectives through the lens of your camera.
You will also find the "house of salt", as well as different sculptures out of salta.
Craftsmen can be seen making art out of big bricks of this mineral.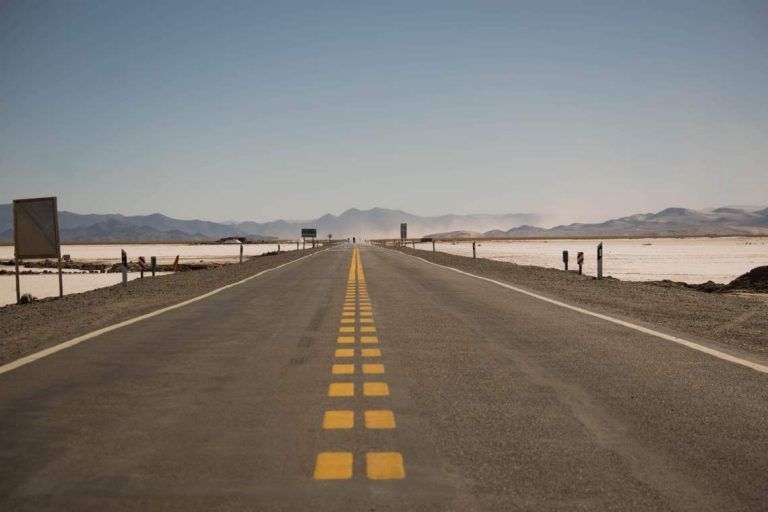 The Hill or Cuesta of Lipan
Leaving the salt flats, on our way to Purmamarca, we take the Route 52.
The winding road leads us, almost like a snake, up the mountain to Lipan, which is located in the district of Tumbaya, Jujuy at 4170m above sea level.
As we work our way up, the landscape is getting more and more spectacular and arid.
Climbing the highest point of our trip, we admire the most impressive things at this altitude, the zigzagging trail in Route 52.
Once arrived at this open space, we find craftsmen working with rocks and stones from the area.
Purmamarca and its Mountain of 7 Colours
After coming down the 1000 bends of Hill of Lipan, we get at around 6pm to Purmamarca, located next to iconic "Cerro de los 7 Colores" (seven colors mountain).
Purmamarca is one the most important pieces of paradise at the beginning of the Quebrada de Humahuaca.
It is a place to fall in love with because of its natural beauty, its architecture of precious houses and its narrow streets.
In this village we make our last break, which allows you to buy handicrafts around the main plaza.
After visiting the village, we return to Salta by highway.
Staying the night in Purmamarca is an option if you choose the 
Pack 4
, so the next day we pick you up for an 
tour to Humahuaca
.
Tour package that includes Salinas and Quebrada de Humahuaca
There is a promotional 2 days package that includes Quebrada de Humahuaca tour and Salinas Grandes tour. It is done in 2 days that do not need to be consecutive. We are talking about Pack 4 "Salt & Quebrada".
Take advantage of the discount of booking these pack benefiting from a discount of 15% aprox.
For a more complete pack, you can take a look to the most complete tour package from Salta.